Chamomile Extract For Skin Care: Natural And Nourishing
Views: 0 Author: Site Editor Publish Time: 2023-08-15 Origin: Site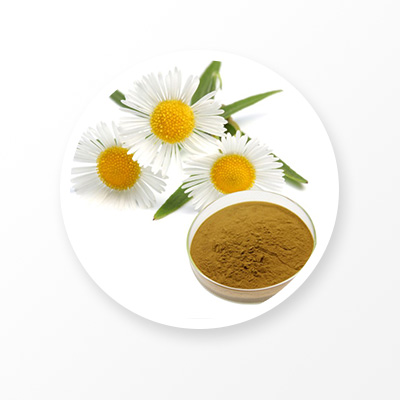 Soothing And Calming Properties:
Chamomile extract has long been recognized for its soothing and calming properties, making it a popular ingredient in skincare products. The extract is derived from the flowers of the chamomile plant, which is known for its gentle and healing properties. Its anti-inflammatory effects help to reduce redness, irritation, and sensitivity, making it suitable for all skin types, including sensitive and acne-prone skin.

Chamomile extract is rich in several beneficial compounds, including essential oils, flavonoids, and antioxidants. These components work together to calm and soothe the skin, reducing irritation and promoting a healthy complexion. Its gentle nature makes it especially beneficial for individuals with sensitive or reactive skin, providing relief from conditions such as eczema and rosacea.
Antioxidant Protection, Hydration, And Nourishment:
In addition to its soothing properties, chamomile extract also provides antioxidant protection, hydration, and nourishment to the skin. Antioxidants help to protect the skin against free radicals and environmental stressors, which can contribute to premature aging and skin damage. By incorporating chamomile extract into your skincare routine, you can help to neutralize these harmful effects and maintain a youthful complexion.

Chamomile extract is also known for its hydrating properties. It helps to lock in moisture, keeping the skin hydrated and preventing dryness and flakiness. This makes it an excellent ingredient for those with dry or dehydrated skin, providing long-lasting moisture and improving the skin's overall texture and appearance.

Furthermore, chamomile extract nourishes the skin with essential vitamins and minerals. These nutrients help to repair and regenerate the skin, promoting a healthy and radiant complexion. It can also help to improve the skin's elasticity and firmness, reducing the appearance of fine lines and wrinkles.
Chamomile extract is a natural and nourishing ingredient that offers numerous benefits for the skin. Its soothing and calming properties make it suitable for individuals with sensitive or reactive skin, providing relief from redness, irritation, and inflammation. Additionally, it delivers antioxidant protection, hydration, and nourishment to the skin, helping to maintain a youthful and healthy complexion.
When choosing skincare products, look for those that contain chamomile extract as an active ingredient. Incorporating chamomile into your skincare routine can help to improve the overall condition of your skin and address specific concerns such as redness, dryness, or aging. Experience the natural and nourishing effects of chamomile extract for radiant and revitalized skin.